Mustang Football Players in Agannis All-Star Football Game
|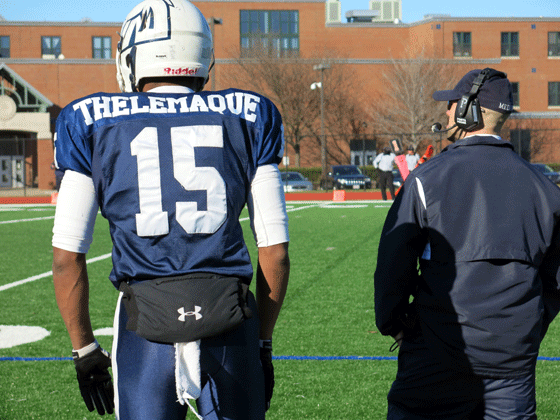 Medford High School football players Reggie Thelemaque and Justin Alley are playing in the annual Agganis All-Star Football Classic.
The game is taking place on Thursday, June 26 at Manning Bowl in Lynn.
Their team team is coached by Pat Sheehan of Triton. Thelemaque will be playing quarterback while Alley will be a lineman, according to MHS coach Jason Nascimento.
Thelemaque is attending Springfield College in the fall. He was a captain and quarterback of the Mustang football team and was selected as a fall Greater Boston League All-Star.
Other Mustangs who recently participated in the classic include Cameron Coe-Smith (OT)-2007, Alec Finn (TE)-2011 and Nathan Clement (OG)-2013.
Some of the great Mustang legends also played, most notably Ed Rideout, Rich Etna, Jim Reid, Tony Staafier, Bill Young, Kevin Cunniff, Ed Finn, Jack Santoro, Dan Cappelucci, Bob Moor, Art Ventresca, Brendan Regan, Rich Baldasarre, Mike Moreno, Bob Gustin, and Dick Dimare, according to the Mustang football website.
– InsideMedford.com