Middlesex Jail in Cambridge Closes
|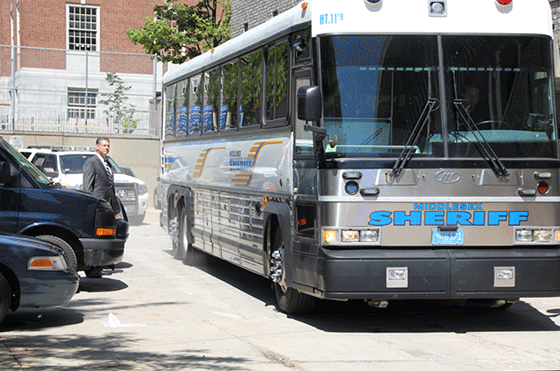 Following 32 years of continuous operation, the Middlesex Jail at the Edward J. Sullivan Courthouse in
Cambridge officially closed Saturday, according to information released by Sheriff Koutoujian. Koutoujian said the building was no longer suitable for housing a jail. It took two days to move the 220 people staying there to a more safe and secure facility. Sheriff Koutoujian said it is a priority for him to "reestablish" a jail in southern Middlesex County in a new justice complex.
According to Cambridge Day, the building is going to be redeveloped into office and residential space.
Koutoujian is pictured above watching the last bus leave Cambridge for Billerica. Courtesy photo.
– InsideMedford.com