Medford Sluggers Welch, Andre Lead Chiefs Over First Half of Intercity League Season
|
By Bruce Tillman for www.Intercityleaguebaseball.com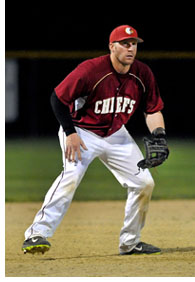 As the Intercity League season hits the halfway point over the Fourth of July weekend, the Medford based Andre Chiefs have an 11-4 record and find themselves sitting atop the local semi-professional circuit with a .733 winning percentage. The team's early season success has been fueled by a couple of North Medford bred products swinging some impressively hot bats. Johnny Welch (right), who was picked up by the Chiefs in the spring after spending the last seven seasons playing professional baseball, and perennial ICL all-star and nine year veteran Mike Andre (below), who have been both on a first half batting tear.
Welch played his high school career at Malden Catholic, graduating in 2002, while Andre captained Medford High in 2005. Welch and Andre share similar college backgrounds, both playing their collegiate careers as third basemen in the prestigious Northeast-10 Conference. Welch was a four year starter at St. Anselm's while Andre followed the same path at Merrimack College. They both captained their respective colleges during their senior year and the two can be found among the all-time career batting leaders at their respective schools.
Insofar as the 2014 ICL season is concerned, Welch and Andre have been ripping up league pitching as the fourth and fifth hitters in the Chiefs' potent lineup that includes no less than five former professionals. Surrounding Welch and Andre are former Minnesota Twins shortstop and Chiefs' number three hitter Juan Portes, who won the ICL's triple crown in 2012. Born in the Dominican Republic, Portes spent seven seasons with Minnesota and is in his third season with the Chiefs. Former California Angels first baseman Peter Copa usually hits sixth and Mike Gedman, son of heralded Red Sox catcher Rich Gedman, traditionally hits seventh. Gedman played the last three seasons for a number of professional teams and returned to the Chiefs lineup this year for the first time since 2010 after starring at UMass. In addition, the Chiefs are waiting for former Toronto Blue Jays infielder and Brown University star Matt Nuzzo to return from the disabled list. Nuzzo is considered one of the best athletes to ever come out of Everett High, leading the Crimson Tide to three state football championships as their quarterback. He was drafted by the Blue Jays in the 24th round of the 2009 MLB draft.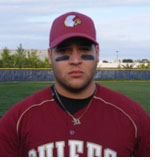 Both Welch, who had 75 homers as a professional, and Andre, are among the ICL leaders at the half-way point of the season. Welch, who survived taking a fastball to the face on June 9 and missed four games, has been on an assault like pace since his return. He is currently hitting a torrid .432 with three homers and 16 RBI in just 11 games. Andre is not far behind and currently checks in at .364 with 11 RBI with a slugging/OPB % of .863. Both Welch and Andre have been named to the ICL all-star team which will take on the Cranberry League on July 12 at Campanelli Stadium in Brockton.
The Chiefs pitching staff also includes some pretty impressive names, headlined by three time ICL pitcher of the year Jared Freni, who captained UMass in 2008. Others include former pro Tim Dunphy, as well as former Malden Catholic and UMass star Mike DiCato. Joining them on the staff are lefthanders Mitchell Clegg, who spent four seasons as a pro after being drafted by the Washington Nationals in 2009, Arizona Diamondbacks product Eric Perrault of Salem, NH, and 2013 MASCAC Pitcher of the Year Matt DiCato of Framingham State.
The Chiefs begin the second half of the season on Sunday, July 6 when they travel to Walsh Field in Wakefield to take on the Merchants at 5:00 PM.
The Chiefs full roster and schedule can be found online at www.andrechiefs.com.
Photos by Jim Valente