Free 'Songs of Slavery' Concert August 3
|
Songs of Slavery: a Free Performance by the US Slave Song Project
Sunday, August 3, at 4:00pm – 5:00pm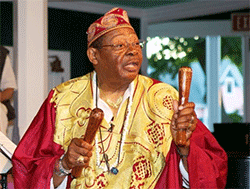 This free concert by the U.S. Slave Song Project, held on the Royall House and Slave Quarters museum grounds, is co-sponsored by The Friends of the Medford Public Library and part of the yearlong Medford Tracing Our Faces project.
The U.S. Slave Song Project, based in Oak Bluffs on Martha's Vineyard, is a nonprofit organization dedicated to educating the public about the authentic American folk music known as slave songs or spirituals. Under the direction of founder Jim Thomas, the chorus will perform songs that enabled enslaved African-Americans to communicate with one another, teach their children, record their history, and heal their pain.
Medford Tracing Our Faces sponsors monthly events to provide opportunities to consider Medford's long history in the context of civil rights, to explore the legacies of these landmark events, and to work together to address critical issues of importance to the people of Medford. This project is co-sponsored by the Tracing Center on Histories and Legacies of Slavery, the Medford Human Rights Commission, and the Medford Commission for Persons with Disabilities. Collaborators include Medford Historical Society and Museum, Medford Public Library, Mystic Valley Area Branch of the NAACP, Royall House and Slave Quarters, and Tufts University.
In the eighteenth century, the Royall House and Slave Quarters was home to the largest slaveholding family in Massachusetts and the enslaved Africans who made their lavish way of life possible. The Slave Quarters is the only remaining such structure in the northern United States, and the Royall House is among the finest colonial-era buildings in New England. The museum is open for guided tours on the hour at 1, 2, and 3pm, every Saturday and Sunday. On-street parking is available and the museum is located on the 96 and 101 MBTA bus routes. Visit RoyallHouse.org for more information.
– Submitted by Gracelaw Simmons