Legion Baseball Team Sweeps Newton
|
Story Updated 3:08PM Saturday, July 12, 2014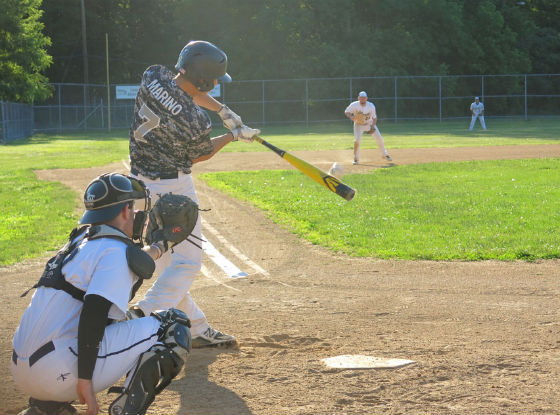 Arlington Catholic's Matt Marino
– Allison Goldsberry
The Medford Post 45 baseball team shutout Newton 2-0 on Thursday night and then topped them 7-1 on Friday.
On Thursday, Malden Catholic's Ryan Covelle outdueled Division 1 Stony Brook commit Teddy Rodliff, said Coach Ryan Kozul. Covelle pitched a complete game two hit shutout, striking out six.
Arlington Catholic's Kyle Boudrias and Matt Marino each scored a run while Boudrias also contributed an RBI. Medford High School's Dom Ramasci brought in a run with a sac fly while fellow Mustang Dave Center had a double.
On Friday, Billy Christopher (Winchester) earned the win on the mound while Boudrias and Brendan Greene (Winchester) led the offense.
Medford, 10-5, is tied for third place in the Zone 5 standings. The top four teams overall at the end of next week will advance to a double elimination tournament, with the winner going to the state finals, according to Coach Kozul.
Medford hosts Tyngsboro at home on Saturday at 5pm and then is in Watertown for a 12:30PM game on Sunday.