Tornado Touches Down in Revere
|
According to the National Weather Service, a tornado touched down in Revere and Chelsea on Monday morning. The tornado is estimated to have lasted four minutes and wound a 2-mile long and 3/8 of a mile wide path. The tornado was classified as an EF-2, with wind gusts between 100 and 120 miles per hour.
According to Revere Mayor Daniel Rizzo, there were no serious injuries. Over 60 buildings are damaged, including Revere City Hall. The city has opened at shelter at the Rumney Marsh Academy, located at 140 American Legion Highway.
The National Weather Service said the tornado began in Chelsea and moved across the river, directly across the Paul Cronin Memorial Skating Rink. The rink sustained damage, including parts of its roof blown off and across Route 16. Several houses on Revere Beach Parkway were severely damaged, including one home that had its roof completely blown off. Many trees were knocked down in the area.
While the damage was widespread throughout the center of Revere, the tornado basically followed Route 107/Broadway. The damage path extended to just beyond the Route 60 rotary, according to a preliminary report from the National Weather Service.
Severe weather is expected to come to the area again. A severe thunderstorm watch is in effect until 8PM Monday.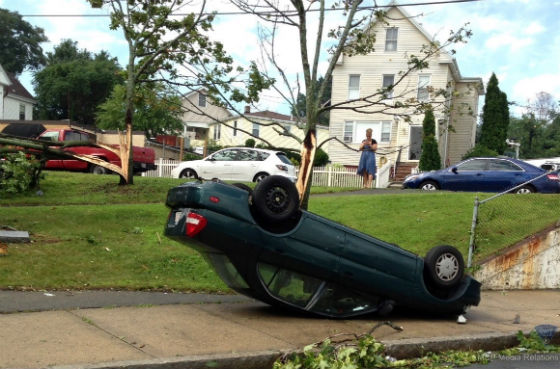 An overturned car on Malden Street at Broadway. Photo by MA State Police.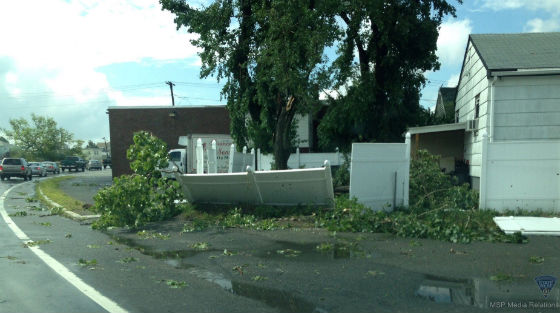 Property damage on the American Legion Highway. Photo by MA State Police.
– InsideMedford.com