Medford Families to Perform in OPENAIR Circus this Weekend
|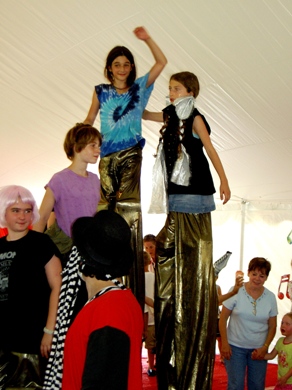 Many Medford families are among the students and teachers as the OPENAIR Circus holds its 29th annual performances under the big top at Conway Field this weekend.
Come watch as students of all ages from 3 to adults and teachers showcase their skills in A Haunted Circus!
Conway Field is at 560 Somerville Ave, Somerville, across from Central Street. Suggested donation is $3.00.
Showtimes:
– Friday, August 1st 7pm
– Saturday, August 2nd 2pm and 7pm
– Sunday, August 3rd 2pm
Please visit www.openaircircus.org for further details.
Pictured: From left to right: Medford residents Kerry Collins, Sarah Ruemenapp, Bianca Mase, and Leila Walker performing at the Open Air Circus in 2007. Photo courtesy Vicki Halal.
– InsideMedford.com