Revere Establishes Tornado Relief Fund
|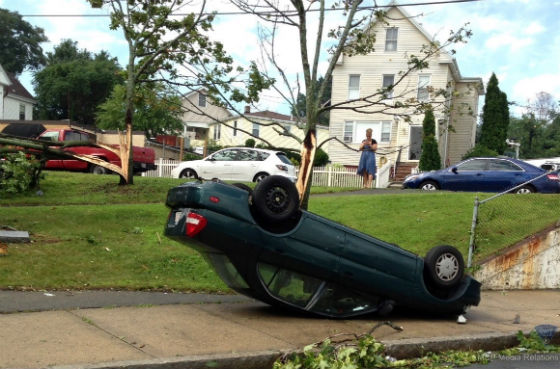 An overturned car on Malden Street at Broadway after the tornado last week. Photo by MA State Police.
Following news that federal aid would be unlikely, the City of Revere has established a tornado relief fund for private donations to assist victims of last week's historic storm.
Former Middlesex District Attorney Gerry Leone will oversee the distribution of the money raised. So far, nearly $10,000 has been raised toward the fund's $1 million goal.
Revere Mayor Dan Rizzo says the storm caused millions in damage, some of which won't be covered by insurance.
"We are still left with a devastating gash a quarter mile wide and two miles long through the heart of our city," said Mayor Rizzo in a press conference on Friday. "Dozens of families have lost their homes and businesses while others have suffered extensive property damage."
More details about the fund, including how to donate online, via mail, or in person, are available at http://www.reveretornadorelief.org/.
– InsideMedford.com