Medford's Last Living Olympic Gold Medal Winner Passes Away
|
Helen Johns Carroll, 99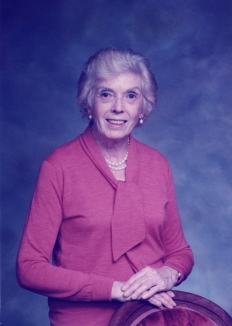 Helen Eileen Johns Carroll, widow of Eugene Joseph Carroll, Jr., died July 23, 2014 at Tuomey Hospital. Born in Boston, Massachusetts on September 25, 1914, Helen was the daughter of Alice Mildred Nash Johns and Edward Joseph Johns. While in high school, Helen began to compete as a freestyle swimmer, and she became a national and New England swimming champion and record holder. In 1932, Helen won a place on the United States Olympic team as a member of the United States Women's Swimming and Diving Squad. As one of the four fastest swimmers, Helen was selected for the United States Women's Freestyle Relay Team, which competed against teams from Canada, Holland, Japan and Great Britain. The United States Team won gold medals while setting new world and Olympic records.
In 1936, Helen was graduated from Brown University, Providence, Rhode Island with a Bachelor of Arts degree in psychology and economics. After their marriage, Helen and her husband lived in the small town of Swansea Village, Massachusetts. The textile industry brought the Carrolls to Sumter, South Carolina from Massachusetts in 1957, and Helen became a teacher for Sumter School District 17. During this time period, Helen helped start a program of instruction in swimming for elementary school students. In 1967, she received a fellowship for study at the University of South Carolina. She was graduated with a Master's Degree in the class of 1969. In 1970, she was selected to participate in the Robert A. Taft Seminar in Government at Clemson University. She retired from teaching in 1980 to become active as a volunteer, to travel, and to enjoy hobbies and family activities. Throughout her teaching and retirement years, Helen often agreed to speak about her Olympic experience and the Olympic Movement.
In 1996, when Atlanta, Georgia hosted the summer Olympic Games, Helen helped carry the torch with the Olympic Flame in Columbia on its way to Atlanta. At her death, she was the second-oldest living United States Gold Medal winner and the fourth-oldest living Gold Medalist in the world.
Helen was a vibrant person who enjoyed people, good conversation, reading and was a captivating story teller. Throughout her life she had many dear friends and colleagues. She was devoted to her family and a "rock star" to her grandchildren.
Helen was a member of St. Anne Catholic Church. Over the years, she participated in the League of Women Voters, Alpha Delta Kappa, Daughters of the American Revolution, Society of Mayflower Descendants, Sumter YMCA, The Shepherd's Center, Sumter Gallery of Art, Sumter Little Theatre,
US Olympians, Sumter Newcomers and Green Thumb Club. She was a charter member of the Sumter Friends of the Library.
She was elected to the Brown University Hall of Fame for Sports in 1981, The Sumter Sports Hall of Fame and the Rhode Island Sports Hall of Fame. In 2013, she received the DAR Award for Women in American History.
In addition to her husband and parents, she was preceded in death by a sister, Martha Evelyn Cannon, and a brother, Arthur Leland Johns. She is survived by two daughters, Deborah Johns Carroll Norman of Sumter and Judith Binney Carroll Player and husband Buddy (O.V.) Player of Greenville, grandchildren, Daryl Eugene Norman and wife Krista of Charlotte, NC, Brent Eric Norman of Charleston, SC, Jason Lee Norman and wife Kerry of Hixson, TN, Carroll Player Wolfe and husband Mitchell, Leslie Player Nuttall and husband Russ, Thomas McGill Player and wife Ginny, all of Greenville, SC., great-grandchildren Benjamin Cary Wolfe, Marion Helen Wolfe, Sophia Harlow Norman, Ellory Helen Norman, Tyler Edward Norman, Connor Nash Norman, Emily Player Nuttall and cousins, nieces and nephews.
The family requests memorials be made to the YWCA of the Upper Lowlands, Inc. 246 Church Street, Sumter, SC 29150, Sumter High School Environmental Center, 2528 McCray's Mill Road, Sumter, SC 29154, St. Anne Catholic Church, 216 E. Liberty Street, Sumter, SC 29150 or to a charity of one's choice.
A Memorial Service will be held at St. Anne Catholic Church on Monday July 28th at 11:00 a.m. followed by a reception in the parish hall.
The family would like to thank the dedicated staff at Covenant Place and Tuomey Hospital for their care and concern.
On-line condolences may be sent to www.sumterfunerals.com
– Information and photo from Elmore Hill McCreight