Medford Resident Inspired by Father's Diabetes Works to Find a Cure
|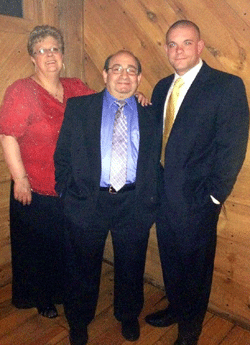 Javier Bellini, a Medford resident, has witnessed his family struggle with diabetes through many generations. While he has not struggled with the disease himself, his Italian-born father has battled with type 2 diabetes for as long as Javier can remember, along with multiple family members on his father's side of the family. Coming from a close-knit family, Javier knows first-hand the challenges that both families and individuals living with diabetes constantly face.
For years, Javier has helped his father, who speaks limited English, manage his diabetes through scheduling doctor visits, translating at appointments and encouraging him to stay active. The first time Javier accompanied his father to an appointment, he was faced with a realization of the significance of diabetes and its complications. He learned that if his father's diabetes is not properly managed, it could lead to symptoms such as lost limbs; at that point, he recognized how ignorant he had been about the condition and how serious it can be.
"Many of us understand how difficult it is to maintain a healthy diet; imagine having to do so, while monitoring yourself 24 hours a day 7 days a week in order to prevent serious, life-threatening events," said Javier. "Diabetes is a constant struggle; it has been mind-numbing for me to see how much my father goes through on a daily basis living with Type 2 diabetes."
Earlier this year, Javier was faced with yet another eye-opening situation as a result of his father's diabetes. He received a phone call from his mother in a nervous panic; his father was on the bedroom floor completely disoriented and in a nonfunctional state. He was taken to MGH and diagnosed with a very low blood sugar. This episode played into Javier's decision to become even more involved with the diabetes community and in particular, with the Latino Diabetes Initiative at Joslin Diabetes Center.
The LDI offers ways for Latinos to get help and make appointments comfortably, without the stress of a language barrier. Receiving care from a facility with bilingual doctors offers more independence to patients not born in the United States, like Javier's father, who will no longer need a family member to translate at appointments; essentially taking away the "middleman."
Last year, Javier served on the ritmos de salud event committee and this year he is serving as event co-chair alongside Lazaro Lopez. ritmos de salud is an upbeat event that celebrates the Latino culture, while benefiting the Latino Diabetes Initiative. This year's event is scheduled for September 26th at the Artists for Humanity EpiCenter in South Boston and features cultural performances from local music and dance groups. A fabulous array of food will be provided by some of Boston's most renowned Chefs, led by the event's culinary chair – Chef Jose Duarte of Taranta.
Javier is passionate about doing his part to combat diabetes not only because of his family history, but because of the impact the disease has had, and continues to have on the Latino community as a whole.
"Diabetes is without a doubt the biggest health issue affecting the Latino community," says Javier. "The population of Latinos within the United States is growing at an increasing rate. Diabetes will eventually affect everyone, one way or another, because it affects such a huge portion of the population we live in."
Javier looks at his dedication to the LDI and ritmos de salud as a long-term commitment. He believes in the work that he is doing and he encourages the community to get involved to support Joslin in its mission to find a cure.
FOR MORE INFORMATION ABOUT RITMOS DE SALUD, TO BECOME AN EVENT SPONSOR, OR TO PURCHASE TICKETS ($75), PLEASE VISIT GIVING.JOSLIN.ORG/RITMOS OR CONTACT JOSLIN DEVELOPMENT AT 617.309.2512 OR MEGHAN.MONGEAU@JOSLIN.HARVARD.EDU.
– Submitted by Regan Communications