Elderly Man Dies in Accident on South Street
|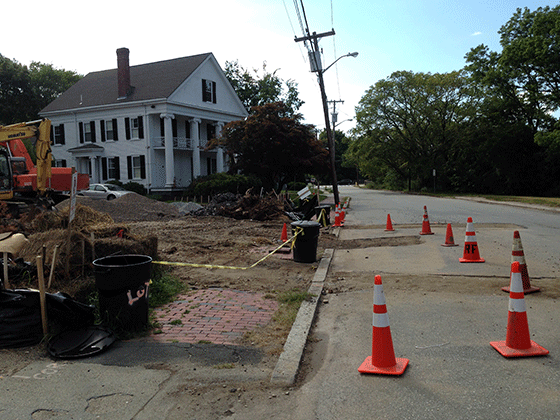 The construction in front of 114 South Street on Monday afternoon.
– Allison Goldsberry
A well-known and beloved Medford resident died in a freak accident on Friday, according to local sources.
George Boudreau, 81, former history teacher and hockey coach at Medford High School, died after falling into a construction site in front of 114 South Street. The historic house, known as "Grandfather's House", is being developed into condominiums.
The details of the accident weren't immediately known.
The property used to be owned by Tufts University and was recently sold, much to the chagrin of some historical preservationists in Medford. The house is believed to be the subject of Lydia Maria Child's famous poem, "Over the River and Through the Wood".
Boudreau, born in Cambridge, was a Medford resident for over fifty years. The boys hockey team dedicated the 2009-2010 season to the former coach. He is survived by many family members and friends. More details on services are available on the Beals-Geake-Magliozzi website.
Donations in his name can be made online.
Additional details about the accident will be added as they become available for this developing story.