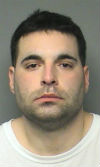 – Allison Goldsberry
A Medford man accused of animal cruelty will return to court in July, according to information released by Middlesex District Attorney Marian Ryan's office.
Judge Maurice Flynn scheduled a court hearing for Ryan Baker, 31, for July 14 at a pretrial hearing on Tuesday. Baker is charged with three counts of cruelty to animals, a felony.
Medford Police say video evidence helped them nab Baker in March. According to police, Baker's neighbor witnessed him beating his girlfriend's pit bull, Bullet, and the neighbor handed over video that allegedly shows Baker punching, kicking, dragging, and throwing the dog on three separate occasions. Those incidents took place in December 2014 and January and March of this year, according to information released by police.
Following Baker's arrest in March, police said Bullet was in good health except for a cut above his right eye. The dog was checked out by police and Medford's Animal Control Officer, Patrick Hogan. Police say the dog's owner had no idea what had been happening to Bullet. The dog was released into her custody and is said to be "well taken care of other than his exposure to [Ryan] Baker."
Medford's Animal Control Office and the Massachusetts Society for the Prevention of Cruelty to Animals have been assisting police with the case.