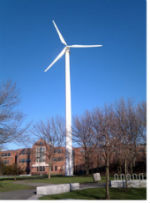 Medford's annual Harvest Your Energy Festival is taking place on Saturday, October 18 from 11am-2pm in Medford's Riverbend Park, at the base of "Windy," the city's wind turbine.
The highlight of the event will be the presentation of Green Awards, which recognize individuals and organizations for environmentally friendly practices.
Other events include tours of the wind turbine, a bike rodeo, music, a shredding truck, and a composting class.
More details are available on the city of Medford's website.
- Information from City of Medford