MBTA Fare Change Public Meeting April 30th
|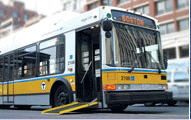 The MBTA is holding one of several public meetings on proposed fare increases in Medford this month.
The meeting is taking place on Wednesday, April 30 from 6-8PM at Medford City Hall.
The MBTA is proposing to increase fares by 5% as of July 1, 2014. According to information posted on the MBTA website, the fare increase is part of an effort to balance the budget.
According to the proposal, bus and subway rides would increase by 10 cents each.
The last fare increase was in July 2012.
– InsideMedford.com